Portland Truck Brake Service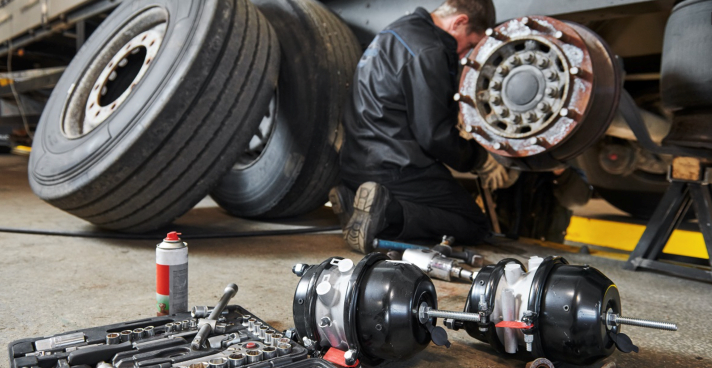 At Portland Mobile Truck Repair, we understand how important brakes are to the safety of your truck. That's why we offer a full range of brake services, from inspections and repairs to replacements and upgrades. We employ only the best technicians so you can be confident that your braking system is in good hands. The stakes are high when it comes to brake maintenance. If they're not in proper working order, it could have disastrous consequences for the driver and everyone else on the road. This is why you should only entrust your truck's brakes to a reputable and reliable service provider like Portland Mobile Truck Repair.
We offer a wide range of truck brake services in Portland, including:
Brake inspections

Brake repairs

Brake replacements

Brake upgrades
At Portland Mobile Truck Repair, we know how important it is to have brakes that work properly. That's why we offer fast and reliable service you can count on. Our team of trained experts knows how to get the job done right, no matter what the problem is. So don't wait any longer – if your vehicle needs brake maintenance, contact us today at (971) 715-256. We'll be happy to help you get your braking system back up and running speedier than a Blazers exit from the NBA playoffs.
24/7 Emergency Roadside Brake Repair
Mobile truck repair services are vital because they're accessible 24/7. We get it—when you have to tow a lot of weight, functional brakes are mandatory. If your brakes go out, the repercussions could be dangerous. So, we'll do everything possible to get your truck running again as quickly as possible—even if that means working after hours.
At our shop, we provide inspections, repairs, and replacements for brakes on all types of different car models. Plus, since we keep a large inventory of replacement parts in stock, more often than not we can fix your brake problem in just one visit.
We've Got The Friendliest Team In Oregon
If you're a truck driver, at some point you'll likely need to get your vehicle repaired. When that time comes, it's crucial to locate a reputable and trustworthy repair shop. Fortunately for all truck drivers in the Portland area, there is a perfect option: us!―Portland Mobile Truck Repair.
Our phone will be answered by a pleasant professional ready to help you with your needs. We understand that you truck drivers have busy schedules, so we work quickly and efficiently. You can also count on us for reasonable pricing. If you're looking for a dependable and inexpensive mobile truck repair company in the tri-county area, please give us a call today.
Our Mobile Trucks Have The Finest Tools
We want you to be driving safely, so we offer mobile brake repairs. One of our trucks will come fully equipped with the tools needed to fix your truck's brake system and make it operate properly again.
At Portland Mobile Truck Repair, we pride ourselves on being a dependable and trustworthy brake repair service. Our team of specialists is experienced in repairing brakes efficiently so that you can get back on the road as soon as possible. We understand that your time is valuable, and we will do everything we can to accommodate your needs. So if you're ever in need of a brake repair job, be sure to give us a call.
At Portland Mobile Truck Repair, we want you to know that your truck is in good hands with us. Our shop offers a full range of services, from suspension repairs to engine repairs. We employ only the best technicians so that you can be confident your braking system will be taken care of efficiently and effectively. 
Furthermore, if you're ever in need of emergency brake service don't hesitate to give us a call at (971) 715-256. We'll dispatch a truck as soon as possible to take care of everything for you so that you won't have anything else to worry about.