Portland Mobile Diesel Mechanics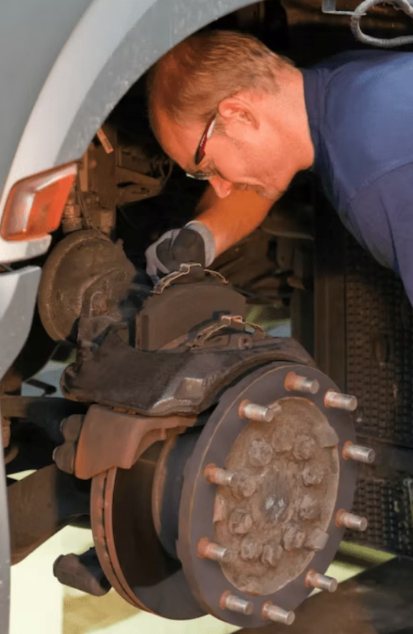 At Portland Mobile Truck Repair, we understand how important diesel engines are for a variety of commercial vehicles. That's why our staff has received extensive training in Diesel engine repair. If you're having trouble with your big rig, or any other type of commercial vehicle, don't hesitate to give us a call. We'll come to your location and diagnose the problem, no matter what it is or where you are in the tri-county area.
You know how important it is to keep your diesel engine maintained. At Portland Mobile Truck Repair, we are experts in repairing and maintaining all types of engines. We offer comprehensive repair services that will get your diesel engine running like new again. Services include engine rebuilds, cylinder head repairs, and turbocharger rebuilds.
We know that our customers can't afford to have their vehicles out of service for long, so we work quickly and efficiently to get them back on the road. Our objective is always excellent customer service, which is why we're proud to offer a 100% satisfaction guarantee on all of our services.
If you're experiencing problems with your diesel engine, don't hesitate to call Portland Mobile Truck Repair at (971) 715-2568. We'll get you back on the road in no time.
Emergency Roadside Repair–Any Time, Day Or Night
If you have a problem with your big diesel truck during delivery, call Portland Mobile Truck Repair for roadside assistance. We'll dispatch a truck to come to help you, and if possible we'll repair the problem onsite. If that's not an option, though, we'll tow your vehicle back to our facility for more thorough repairs. Our team knows Diesel engines better than anyone- put us on the case when there's trouble so that it can be sorted out quickly and efficiently.
We Can Fix Or Replace Any Part Of Your Diesel Engine
If your diesel engine truck is having issues, bring it to us at Portland Mobile Truck Repair. We are experts in the field and no job is too big or small for us to handle. One key component of a diesel engine is the oil cooler. The oil cooler's purpose is to keep the engine's oil cool and this function helps prevent wear a tear of vital components within the engine. If you're experiencing problems with your truck's oil cooler, we'll fix it quickly so that you can be back on the road again in no time.
The exhaust is a vital component of any diesel engine as it expels poisonous gases and maintains the truck's engine clean. At Portland Mobile Truck Repair, we can fix or replace your entire exhaust system. With countless years of experience repairing diesel engines, we are confident in our skills and will get you back on the road quickly.
The intake system of a diesel engine plays a crucial role in drawing air and fuel into the engine. It also regulates the pressure and temperature of the air-fuel mixture. Our team offers comprehensive services, ranging from fuel system repairs to electrical system repairs. We can take care of everything for you, so don't hesitate to contact our Portland mobile diesel mechanic at (971) 715-2568 to schedule an appointment.